"Seventy-five for the Pair" ... Long Coat Chihuahuas, 5 x 7 Note Cards & 8x10 Paper & Canvas Prints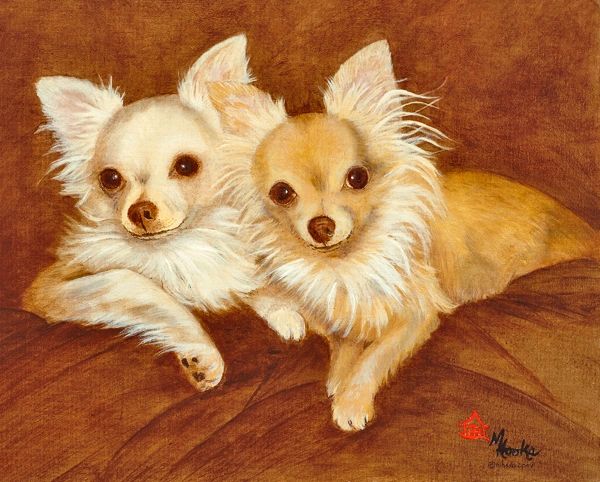 Description
Note Card Insides are Blank ... They Come With Envelopes
ALL PRINTS COME WITH A CUSTOM GICLÉE PRINT CERTIFICATE OF AUTHENTICITY
(Certificate image shown is for illustration purposes only.)
All post-production profit on prints and note cards by this artist goes directly to JCCARE, a care & rescue organization for Japanese Chin.
---
THIS TEXT IS PRINTED ON THE BACK OF THE CARD:
(along with artist contact information)
"Seventy-five for the Pair" ...
Ch. Douglas' Blanco Rollo, C.D., and Ch. Douglas' Surprise, C.D.
That was the price for these beautiful representatives of the breed. Snow and Surprise, a brother-sister pair, earned conformation championships as well as obedience degrees. A sire of distinction, Snow's daughter, Ch. Snow Bunny d' Casa de Cris, became the first Long Coat Chihuahua in history to win an AKC All-Breed Best in Show. The Chihuahua is a smart, saucy, alert little dog with a terrier-type personality and is the smallest of the toy breeds. This centuries-old breed is a member of AKC's Toy Group.

The Artist
: Born and reared in the South,
Martha Hooks
has always had dogs in her life. Her memories of going to field trials with her dad as well as time spent in conformation rings with her Long Coat Chihuahuas helped expand her knowledge of canine anatomy, breed traits and personalities. She paints full time and, of course, her favorite subjects are dogs, cats and horses. In addition to portrait work, she paints pets on purses.
Reviews