"The Teahouse Six II" ... Japanese Chins, 5 x 7 Note Cards & Assorted Size Paper & Canvas Prints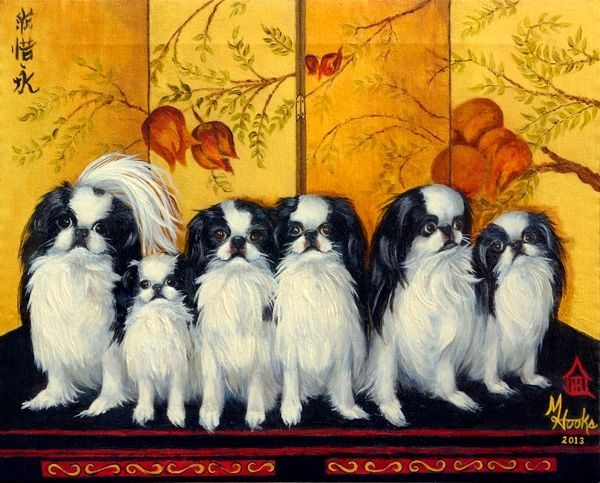 Description
Note Card Insides are Blank ... They Come With Envelopes
ALL PRINTS COME WITH A CUSTOM GICLÉE PRINT CERTIFICATE OF AUTHENTICITY
(Certificate image shown is for illustration purposes only.)
All post-production profit on prints and note cards by this artist goes directly to JCCARE, a care & rescue organization for Japanese Chin.
---
THIS TEXT IS PRINTED ON THE BACK OF THE CARD:
(along with artist contact information)
"You're Standing on My Tail" ...
Ch. Olivia, Mikiko, Taki-Sun, Smudge, Ch. Lisa Marie and Peoples, Japanese Chin
--from original 20" x 16" Acrylic on Stretched Canvas
These Oriental beauties were the first six Japanese Chin to live at The TeaHouse. A rescue mission in reverse--the Chin rescued the humans. Former breeders and exhibitors, Martha & Bill Hooks were outliving the last of their Long Coat Chihuahuas when 3-month old Mikiko arrived at The TeaHouse followed closely by Peoples and Taki-Sun. A trip to the Japanese Chin National Specialty, Raleigh, NC, resulted in the addition of Ch. Olivia to the TeaHouse Pack. Just like potato chips, along came Smudge and Ch. LisaMarie bringing the TeaHouse Pack to a total of six beautiful black and white Chin! (The red invasion came later but that's another painting!)
The Artist
:
Martha Hooks
, a Southerner by birth and choice, has always had dogs in her life. Her memories of going to field trials with her dad as well as time spent in conformation rings with her Long Coat Chihuahuas helped expand her knowledge of canine anatomy, breed traits and personalities. She paints full time and commissions are accepted, time permitting. Of course, her favorite subjects wear fur coats year around.
Reviews