"Where the Wild Wasabi & Ginger Grow" ... Japanese Chins, 5 x 7 Note Cards & Assorted Size Paper & Canvas Prints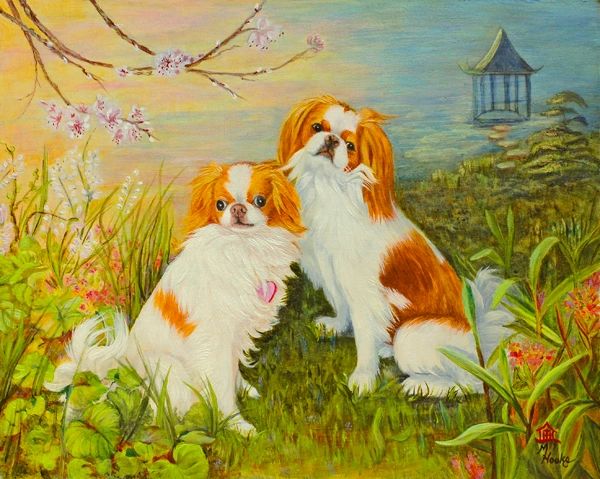 Description
Note Card Insides are Blank ... They Come With Envelopes
ALL PRINTS COME WITH A CUSTOM GICLÉE PRINT CERTIFICATE OF AUTHENTICITY
(Certificate image shown is for illustration purposes only.)
All post-production profit on prints and note cards by this artist goes directly to JCCARE, a care & rescue organization for Japanese Chin.
---
THIS TEXT IS PRINTED ON THE BACK OF THE CARD:
(along with artist contact information)
"Where the Wild Wasabi & Ginger Grow" ...
Left: Ginger Chin Hooks, Right: Wasabi Casper
"We live many miles apart and met nose-to-nose only once. In our hearts, however, we are walking to our favorite place not far from The TeaHouse where the wild wasabi and ginger grow. Isn't it funny that we are both named after spices! Wasabi and I are representative of many wonderful Japanese Chin that have been rescued, restored to good health, and re-homed by the Japanese Chin Care and Rescue Effort (JCCARE). This exceptional organization is staffed from coast to coast by dedicated volunteers.
"Wasabi became a 'foster failure' which means after his rescue, he was placed with a foster family. Two weeks later his foster family filed his adoption paper! Now, I call that a 'foster success'! As for me, I was literally snatched from Death Row in a Kill shelter but was saved by the same JCCARE Angel who had rescued Wasabi about six months earlier. Our one and only nose-to-nose experience took place on the same day I was rescued, March 17, and I have chosen this date to be my new Birthday for I was truly given a new life with a family who loves me!"
The Artist
:
Martha Hooks
, a Southerner by birth and choice, has always had dogs in her life. Her memories of going to field trials with her dad as well as time spent in conformation rings with her Long Coat Chihuahuas helped expand her knowledge of canine anatomy, breed traits and personalities. She paints full time and commissions are accepted, time permitting. Of course, her favorite subjects wear fur coats year around.
Reviews