"The Impress and The Imp" ... Japanese Chin, 5 x 7 Note Cards & Assorted Size Paper & Canvas Prints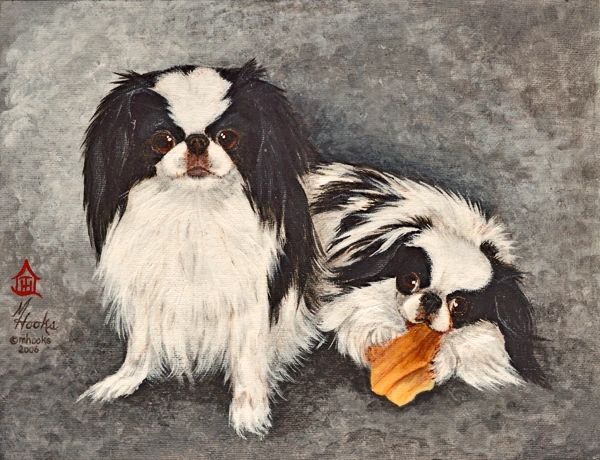 Description
Note Card Insides are Blank ... They Come With Envelopes
ALL PRINTS COME WITH A CUSTOM GICLÉE PRINT CERTIFICATE OF AUTHENTICITY
(Certificate image shown is for illustration purposes only.)
All post-production profit on prints and note cards by this artist goes directly to JCCARE, a care & rescue organization for Japanese Chin.
---
THIS TEXT IS PRINTED ON THE BACK OF THE CARD:
(along with artist contact information)
"The Impress and The Imp" ...
Olivia and Peoples, Japanese Chin
The regal Empress Olivia is trying to pose pretty while Peoples, the imp, who is totally unconcerned with posing, goes about taking care of a chew bar.
The Japanese Chin itself is like a piece of rare Oriental art. A centuries-old breed, a member of AKC's Toy Group, this delightful, creative and entertaining little dog exhibits cat-like behaviors. Its one purpose is to serve man as a companion dog and the Japanese Chin does this to perfection.
The Artist
:
Martha Hooks
, a Southerner by birth and choice, has always had dogs in her life. Her memories of going to field trials with her dad as well as time spent in conformation rings with her Long Coat Chihuahuas helped expand her knowledge of canine anatomy, breed traits and personalities. She paints full time and commissions are accepted, time permitting. Of course, her favorite subjects wear fur coats year around.
Reviews