"Omar Little Thinks Big" ... Japanese Chin, 5 x 7 Note Cards & Assorted Size Paper & Canvas Prints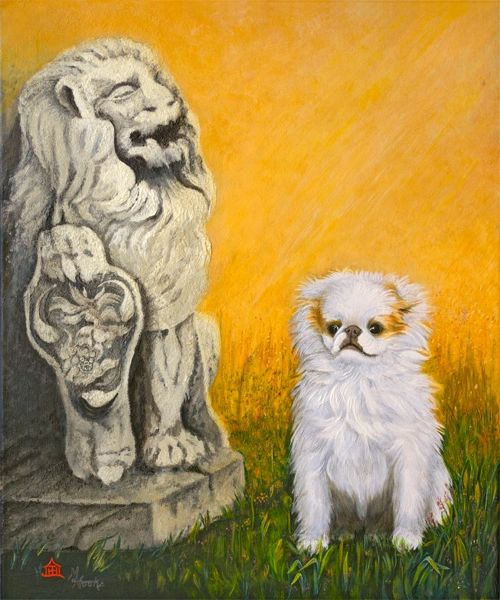 Description
Note Card Insides are Blank ... They Come With Envelopes
ALL PRINTS COME WITH A CUSTOM GICLÉE PRINT CERTIFICATE OF AUTHENTICITY
(Certificate image shown is for illustration purposes only.)
All post-production profit on prints and note cards by this artist goes directly to JCCARE, a care & rescue organization for Japanese Chin.
---
THIS TEXT IS PRINTED ON THE BACK OF THE CARD:
(along with artist contact information)
"Omar Little Thinks Big" ...
Omar Little, Japanese Chin
Collection, Dana Baldinger, Renton, WA
--from original 24" x 20" Acrylic on Stretched Canvas
"I'm just a little Japanese Chin only five months old and I've just been with my new family a few weeks. I come from the land of the rising sun, fierce Samurai warriors and Foo Dogs. I think Lions and Dragons make Foo Dogs; they are all brave, strong and fearless.
"See the big Lion guy sitting over there? He is my hero and I want to grow up to be a strong, brave warrior just like him. After all, I have a new family to protect! Do you think I look like him? Maybe just a little?"
Growing up is hard for all little ones but Omar Little is up to the challenge. Also, he has his housemate, the famous Clint Chin, to help fight the pillows into shape. The humans in Omar Little's new family have been involved with Chin rescue through JCCARE for over 15 years and have helped many Chin in need!
The Artist
:
Martha Hooks
, a Southerner by birth and choice, has always had dogs in her life. Her memories of going to field trials with her dad as well as time spent in conformation rings with her Long Coat Chihuahuas helped expand her knowledge of canine anatomy, breed traits and personalities. She paints full time and commissions are accepted, time permitting. Of course, her favorite subjects wear fur coats year around.
Reviews