"Foxy and the Pink Gorilla" ... Japanese Chin, 5x7 Note Cards & Assorted Size Paper & Canvas Prints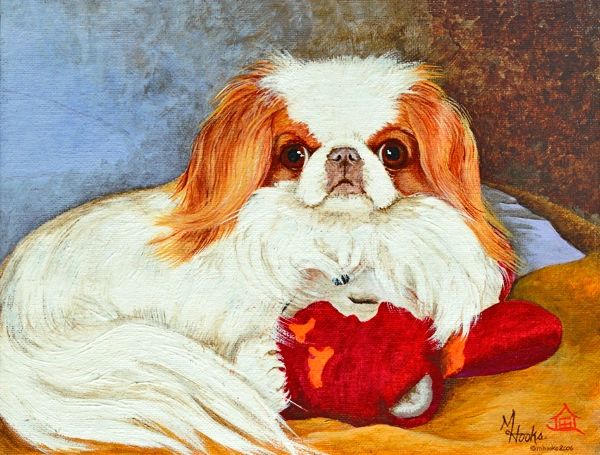 Description
Note Card Insides are Blank ... They Come With Envelopes
ALL PRINTS COME WITH A CUSTOM GICLÉE PRINT CERTIFICATE OF AUTHENTICITY
(Certificate image shown is for illustration purposes only.)
All post-production profit on prints and note cards by this artist goes directly to JCCARE, a care & rescue organization for Japanese Chin.
---
THIS TEXT IS PRINTED ON THE BACK OF THE CARD:
(along with artist contact information)
"Foxy and the Pink Gorilla" ...
Japanese Chin
The artist,
Martha Hooks
, has been possessed by a number of Japanese Chin over the years and they are frequent models for her artwork! The Japanese Chin itself is like a piece of rare Oriental art. A centuries-old breed, a member of AKC's Toy Group, this delightful, creative and entertaining little dog exhibits cat-like behaviors, such as climbing and self-grooming.
The Artist
:
Born and reared in the South, Martha Hooks grew up with dogs. She has vivid memories of riding with the judges at field trials where her dad won trophies with his pointers. She and her husband, Bill, raised Long Coat Chihuahuas, and produced many conformation champions. Time spent at the dog shows expanded her knowledge of canine anatomy, breed traits and personalities of many breeds. Martha started painting dogs because she couldn't find artwork featuring her breed. After years of painting on every surface capable of holding paint, she finally arrived at canvas, not because of a dog but because of a horse. She now paints full time and, of course, her main subjects are dogs, cats and horses. In addition to her portrait work, she paints pets on purses.
Martha and Bill live in a Japanese-inspired house on a lake in rural Alabama along with two Japanese Chin, Foxy and Sachi, and two Tuxedo cats, Catarina Kit and Cleocatra.
Reviews