"Just Basking" ... Long Coat Chihuahua, 5 x 7 Note Cards & Assorted Size Paper & Canvas Prints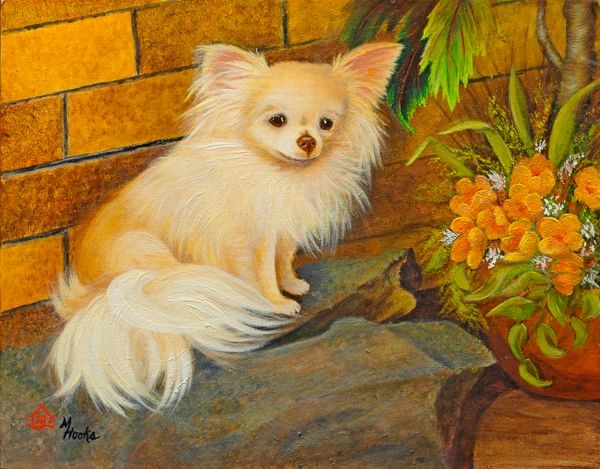 Description
Note Card Insides are Blank ... They Come With Envelopes
ALL PRINTS COME WITH A CUSTOM GICLÉE PRINT CERTIFICATE OF AUTHENTICITY
(Certificate image shown is for illustration purposes only.)
All post-production profit on prints and note cards by this artist goes directly to JCCARE, a care & rescue organization for Japanese Chin.
---
THIS TEXT IS PRINTED ON THE BACK OF THE CARD:
(along with artist contact information)
"Just Basking" ...
Surprise d'Casa de Cris / Long Coat Chihuahua
(Ch. Snow B. Bear X Ch. Handwerk's Maizy)
"My name is Surprise but I really wasn't one—surprise, that is—anyway, I was named for one of my aunts, Ch. Douglas' Surprise who actually was one—a surprise, that is.
"I was born into a family of show dogs with many Champions on both sides of my family tree. Without a doubt, I would have done quite well in the show ring had I chosen to follow the paw prints of my parents, aunts, uncles, and oodles of cousins. But, I simply wasn't interested in parading around on one of those tiny show leads just to win those silly little ribbons. Of course, my Aunt Bunny won a lot more than just ribbons but she was born to be in show business. As for me, I just love to sit on top of some big rocks on the patio after breakfast, warm my fur in the sunshine and, maybe, take a little nap. Now, that's what I call living the good life!"
The Chihuahua is a smart, saucy, alert little dog with a terrier-type personality and is the smallest of the toy breeds. Although the Chihuahua must be six pounds or less to go into the show ring, they are fearless around dogs of any size much to the dismay of their owners. Thanks to their excellent hearing, they make wonderful watch dogs. This centuries-old breed is a member of AKC's Toy Group.
The Artist
: Born and reared in the South,
Martha Hooks
has always had dogs in her life. Her memories of going to field trials with her dad as well as time spent in conformation rings with her Long Coat Chihuahuas helped expand her knowledge of canine anatomy, breed traits and personalities. She paints full time and, of course, her favorite subjects are dogs, cats and horses. In addition to portrait work, she paints pets on purses.
Reviews